Couples Retreat Location — Asheville NC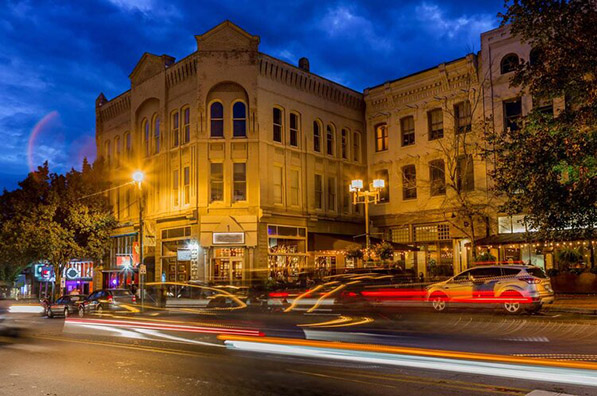 There's much to love about Asheville, North Carolina, a cosmopolitan small town tucked in the Blue Ridge Mountains of Western North Carolina. For ages, people have been drawn to this special place for its scenic beauty, healthy lifestyle, arts and crafts, food and beer.
Asheville is the perfect setting for your passionate intimacy retreat. It will enliven all of your senses. The magnificent beauty of the mountains all around you, the sumptuous food that will fit every taste bud, the eclectic mix of live music in practically any venue you walk into, and the vast array of activities that await you.
It's been called many things throughout the years: Land of the Sky, Paris of the South, Santa Fe of the East, New Age Mecca, Beer City U.S.A. and it even rated some more unusual monikers with Rolling Stones magazine dubbing the town "the freak capital of the U.S., and the book The Geography of Bliss cites Asheville as the "happiest town in America."
Some say the high concentration of quartz in the surrounding mountains creates a magical pull for those destined to love living and visiting here.
It's small enough for people to bond together and really care about their community, and yet large enough to attract world-class chefs, brew masters, entrepreneurs, craftspeople, and musicians.
As you explore, we have some ideas on how to immerse yourself in a true Asheville experience.
George Vanderbilt fell in love with the area in the late 1800s and quickly scooped up 125,000 acres and hired an expansive crew to build his majestic home and estate, which he called Biltmore. Today, the house, gardens, hotels and winery are located on about 8,000 acres and definitely a must-see. Vanderbilt's widow, Edith, sold much of the other land to the government to form the Pisgah National Forest.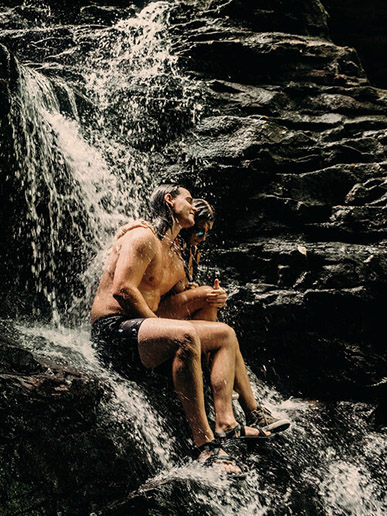 After a day at the estate, find out why Asheville earned the reputation as "Beer City U.S.A." Craft breweries are plentiful here and it all started in 1994 when Oscar Wong started brewing beer in the basement of Barley's Taproom on Biltmore Avenue. Today, Wong's Highland Brewing Company, noted as N.C's largest craft brewery, is in its own expansive 180,000-square-foot digs in East Asheville with a taproom and event center and a plethora of live music events.
In the mood for arts and crafts? The best place to start is in Asheville's River Arts District where you can meet and mingle with working artists and appreciate the wide variety of mediums they use to create one-of-a-kind pieces. Some have a misconception that these studios are only open on special studio strolls and second Saturday events, but in reality, most days of the week when you can wander into open shops.
Hungry, yet? Asheville is making a name for itself as a foodie town (and the secret is out with Yelp putting Asheville at the top of its 2020 U.S. destinations for food lovers) with award-winning chefs, creative offerings, and the French Broad Chocolate Lounge, which wins fans daily with its small-batch treats.
And we haven't even gotten to the miles of forest trails, outdoor adventures at every turn, majestic sunsets, rooftop bars, shopping and street musicians who provide a lively vibe in the center of town.
Forget about gay Paris… Asheville, North Carolina is the real city for lovers!
"My fiance' and I sought out Xanet's services to give us new tools to enhance our level of connection. During our first session, we learned a process to support our ability to let go of the busyness in our minds from our very full lives and reconnect to our love for each other in a very special way."
— S.L.
Locations for Local Group Retreats
Local Group Retreats will be held in various retreat centers in Asheville.
Some retreats will be held at Samasati Sanctuary, a beautiful, private retreat center, on 11 gorgeous acres of gardens, forests, walking paths, and fire circles. The retreat also features a spacious hot tub and sauna.
Other retreats will be held at other retreat centers in the surrounding area.
Lodging and Accommodations for Private Couples Retreat
The retreat package includes lodging in our beautiful romantic chalet with your own private hot tub overlooking the woods. There is also a full kitchen should you decide to stay in and cook.
When not in use for a retreat, the Chalet is a high-end Airbnb and is well stocked with everything you will need from personal effects (body wash, shampoo, hairdryer etc) to spices, oils and anything else you would need to cook a gourmet meal. Also, if there's something that you need, just ask and we will do our best to accommodate you.
We supply luxurious robes and plenty of towels for the hot tub. A massage table and organic coconut oil is also available for your use. If you're into sex toys, bring them too! We even provide an infrared toy sanitizer!