Travel and Accommodations:
What's the nearest Airport to Asheville?
You can fly into Asheville Regional Airport (AVL) which is 30 minutes away. Asheville has a number of direct flights daily from New York, Florida, Boston and Washington, D.C. Many other flights will connect through Charlotte, North Carolina or Greenville Spartanburg, South Carolina.
Other options are Greenville Spartanburg International Airport (GSP) which is 75 minutes away and Charlotte Douglas International Airport, (CDI) which is a two hour drive from Asheville.
The Hickory Hop provides transportation between Charlotte and Asheville on an hourly basis.

Asheville, NC
Will I need a car during the retreat?
The retreat center is located in North Asheville, 2.5 miles away from shopping and restaurants and about 4 miles from Downtown. You will definitely need some sort of transportation to get around. We suggest either renting a car or using Uber or Lyft which is plentiful and readily available in Asheville.
Can I Stay Off Site?
The retreat package includes lodging in our beautiful romantic chalet with your own private hot tub overlooking the woods. There is also a full kitchen should you decide to stay in and cook. However, if you chose to stay somewhere else, we can discuss options.
Is laundry service available?
Yes, there is a washer/dryer available for your use.
Am I responsible for my own meals?
Yes!  Cooking with your partner can be a fun and sexy activity! The Chalet has a fully stocked gourmet kitchen and  we will also provide a basket of snacks and other goodies! There are fabulous restaurants in Asheville for lunch and dinner and several grocery stores (Whole Foods, Trader Joes, Fresh Market and Ingles) just minutes away.
What to Bring/What to Wear?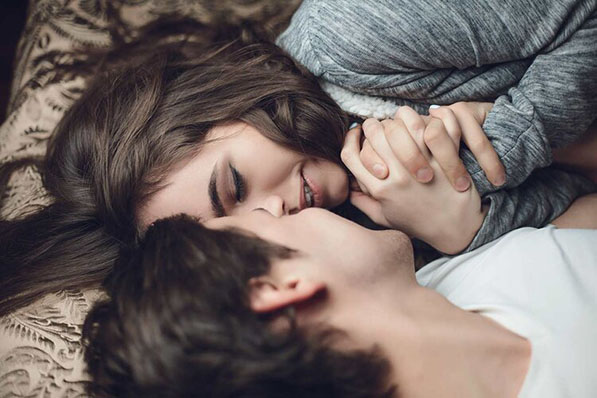 What do I need to bring?
When not in use for a retreat, the Chalet is a high-end Airbnb and is well stocked with everything you will need from personal effects (bodywash, shampoo, hairdryer etc) to spices, oils and anything else you would need to cook a gourmet meal. Also, if there's something that you need, just ask and we will do our best to accommodate you.
We supply luxurious robes and plenty of towels for the hot tub. A massage table and organic coconut oil is also available for your use. If you're into sex toys, bring them too! We even provide an infrared toy sanitizer!
What do I need to wear?
For our sessions, wear comfortable clothing that you can move around in such as loose fitting pants or shorts. Since this is an intimacy retreat, consider bringing some special sexy clothing, lingerie, a sexy dress or shirt/dress pants for your evening activities and fun.
For playing in Asheville bring a variety of outdoor clothes and shoes. There are some great hiking trails in the area so sturdy shoes are definitely recommended along with your favorite flip flops or sandals! Definitely bring a raincoat and umbrella because Asheville is a temperate rain forest and you never know when the skies will decide to open up.
The hot tub is definitely clothing optional (though you do need to shower before). When there are leaves on the trees you will have complete outdoor privacy at all times. In the winter, you may choose to wear a bathing suit during the day until our pine trees grow some more!
What to Expect During Our Sessions
What happens during an intimacy retreat?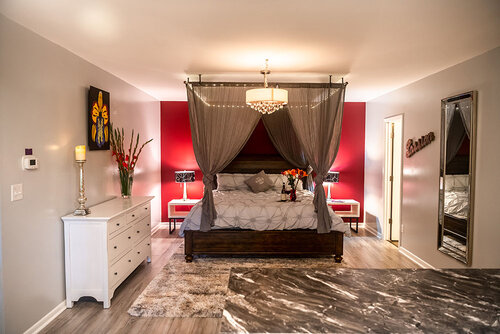 Our amazing Airbnb master bedroom – so romantic!
We will design a retreat that will specifically meet your needs as a couple based on an extensive interview process. Xanet can help you explore most anything that you are interested in including better communication, sensual massage, sacred sexuality and Tantra, light kink and power play.
In general, you should expect that your retreat will include some movement and meditation, connection exercises, communication skills, new tools for deepening intimacy, touch exercises, and opportunities to explore your core desires. Your retreat will be interactive and experiential. We will not just talk, although certainly there will be plenty of time for processing. You will also be given some "homeplay" assignments to do on your own.
Are the retreat hours fixed? Is there flexibility?
The retreat was specifically designed to provide you with plenty of time to explore Asheville uninterrupted in the afternoon and evenings so our sessions are in the morning, with the exception of an afternoon session on the day you arrive. Of course, if there's an emergency or something significant comes up, we can change the schedule. However, this is only in exceptional circumstances so please plan your activities around the published schedule.
My partner and I are in a sexless marriage. Is this retreat appropriate for us?
Definitely! Xanet has had a lot of experience working with couples in sexless marriages (and was in one herself for over two decades). There is nothing more powerful and effective than the opportunity to take a deep dive into your relationship and intimacy. We will begin to unravel all the barriers that have kept you apart and help you learn how to reconnect and recreate intimacy on new terms.